RADAR
Please click the PayPal button and sign up to use your credit card to make a donation to help other dogs who come in with serious injuries or medical issues like Radar. It's fast, easy, and secure!
10/6/99
Dear Sunny,
We just wanted to let you know how well Radar is fitting into our family. Our 7 yr old Boston Terrier mix was a little huffy for about a week but then decided he was fun to play with. Now they're good friends.
Jason & I are taking him to obedience class at the Humane Society and he's a star pupil. Also the smallest dog there!
Jason just loves him - can't imagine having any other dog. We took him camping in September which he thought was kinda strange, but he was willing to go with the flow. When we got home he seemed pleasantly surprised, like, "Oh, we ARE coming back here!"
Melissa
PS. We think Jason looks like his dog (little pointy face & wiry body.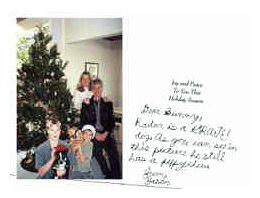 (Card written by Jason, Christmas 99)
Dear Sunny,
Radar is a GRATE! dog. As you can see in this picture he still has a puppy chew.
From,
Jason
Can you help? Great dogs like Radar are left to die in shelters everyday. We rely on the donations of people like you to help us raise the funds needed to care for a few of these dogs and give them the chance that you gave Radar!! You can make any donation by going to the paypal link at the top of this page or you can mail a check to:
South Bay Purebred Rescue
P.O. Box 36090
San Jose, CA 95158