NEELAA
January 31, 2008
Hi,
I am just writing to tell you all about the puppy I adopted from South Bay Purebred Rescue in July of 2007. She is a purebred blue Chow and her rescue name was "Trixie".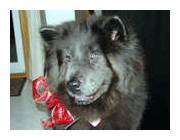 "Trixie" has been renamed Neelaa and is now living in Edmonton, Alberta, Canada. The adoption would not have happened without the help of three of my very dear friends who live in the San Jose area. Along with the assistance I received from Sara at SBPR (who was kind enough to make an exception in my case & interview me over the phone), we were able to make my dream of adopting another Chow come true and I will be forever grateful.


Neelaa loves her new life; going for long walks & car rides, playing in the dog park, running & bounding through the snow. She is the light of our lives and is such a bright and happy girl and she is spoiled rotten!

She has turned into such a stunningly beautiful dog with such a wonderful disposition that I can't help but be grateful to the people who decided to give her up in the first place.

On behalf of myself, Neelaa, and the countless other animals you have helped, thank you SBPR for everything that you do!!!


Sincerely,
Roxana Lambkin

Can you help? Great dogs like Neelaa are left to die in shelters everyday. We rely on the donations of people like you to help us raise the funds needed to care for a few of these dogs and give them the chance that you gave Neelaa!! You can make any donation by going to the paypal link at the top of this page or you can mail a check to:
South Bay Purebred Rescue
P.O. Box 36090
San Jose, CA 95158