MATTIE
Please click the PayPal button and sign up to use your credit card to make a donation to help other dogs who come in with serious injuries or medical issues like Mattie. It's fast, easy, and secure!
Monday 11/29/99
She came from the shelter in Modesto, CA. A rescuer friend drove her up to San Jose and dropped her off at one of our foster homes. She had been scheduled for euthanasia. The foster Mom didn't know what to expect, all she had been told is an adult female Old English Sheepdog needed a foster home. Then she arrived. She is a small (50lb) girl with the sweet face of an old English Sheepdog and a coat that probably had never been brushed for her entire 3 years of life. She smelled so bad. Her nose dripped green mucous from kennel cough she had picked up at the shelter. Her coat was so matted that her back legs were stuck together and she could only walk in very small steps or hop like a bunny. But she wiggled her tail-less butt when she met her new foster mom. Her coat was so bad she couldn't even be washed that night. She needed a professional groomer but she had kennel cough and no one would risk taking her into their shop and exposing the client's dogs. So we just fed her and tried to pet her through all the stench and filth. She soaked up the love and rested for the night, quietly, in a crate with a soft fluffy blanket. She acted like she had never had so soft a bed in her whole life.
Tuesday 11/30/99
Two of our groomers got together after all the client dogs were gone tonight and started working on Mattie. She was so good. She was so patient. She stood on the table like a pro and let them do what they had to do and so the shaving began. Her coat came off in huge pieces, like a pelt. The smell filled the shop but she didn't seem to mind. Then the problems began to surface as more and more matted hair fell to the floor. First her hips and thighs were atrophied, a condition that occurs in muscles that are not used. We prayed it was caused from the mats that locked her legs together rather than by hip dysplasia, so she could heal with regular exercise and good food. Then we found two lumps on her neck. One of the lumps felt like a BB under the skin. Had someone shot our sweet girl?
Then we saw the worst of all. As the hair came off her rump we all began to feel sick. Her little stump of a tail and all of the skin surrounding it, her whole butt, was one open sore and the hair coming off it was a solid mass of wet feces, weeds, mats and MAGGOTS! Some of us got tears in our eyes and some got angry. Who could let a dog get this way? Someone said people like that should be jailed. And then we got scared. What if the maggots had gone up into her rectum or uterus? She can't die, she is so sweet, we have to save her.
Four hours later, we were finally done with her grooming. She didn't look so great but we would give her a few days rest and finish up the job later, after a little hair could grow in. Her coat was very thin and she had bald patches but in a few days, if we could save her, she would look better. So home she went and back to her soft bed for another night.
Wednesday 12/01/99
7:00AM and off to the vet with Mattie. The word wasn't very good when it came. The vet agreed one of the lumps on her neck was indeed a BB. Her hips seemed okay to the vet and we decided to wait and see how they improved now that she was free to walk. X-rays are expensive and didn't seem needed right away. No maggots were found in the rectum or vulva as far as the vet could see. But what the vet found was bad. Mattie has Pyometra, a type of uterine infection that requires surgery (spay) but females with pyometra are bad surgical risks and dogs with kennel cough are bad risks too. Mattie wouldn't make it through surgery right now. It was decided to pull out the big guns and start her on some very powerful antibiotics. Vets usually like to try less powerful drugs at first but in Mattie's case, she has the pyometra, the kennel cough and the raw rump to deal with so we are going for the most aggressive treatment.
So Mattie is back home tonight. She can run now a little and seems to enjoy the new backyard but she gets tired easily and then she just wants to be held and petted. When she finds herself alone, she howls a soft mournful sound that is so sad and lonely. Then she sees her foster Mom and it's all wiggling butt and she comes over for a cuddle. She smells good now so she gets lots of cuddles. She ate all her dinner and then went to bed in her crate. She needs her rest and all the help the antibiotics can give. She's still at touch and go. She can't be spayed until the kennel cough clears up. That could take weeks. At any time between now and then she can take a turn for the worse and require emergency surgery. She's just not strong enough for that now. We are praying hard. If ever a dog deserved to live, it's our Mattie. She is so full of trust and love and sweet spirit.
Thursday 12/02/99
Still no pictures of Mattie yet. I regret we didn't get pictures of how she looked when she came in but there really wasn't time to bring the digital camera home from work. She had to be dealt with right away.
She is doing well today. She loves everyone. While playing with her I learned that she has some training. She does sits and downs on command. She won't jump up on you and she plays fetch, not always good about bringing the toy back but when she does, she drops it on command. She also will go to the bathroom when you say "Go Potty". She tries so hard to please. Also, she seems to be de-barked. You can hear her bark but it's very strange sounding for an Old English Sheepdog.
She can run better today but still not for too long. She is quiet all day. She just wants to be close to the family. She likes the other dogs but she can't play with them because she is too sick still.
Saturday 12/04/99
Here's Mattie! As you can see, she still has Kennel Cough. Poor girl. I fell like a real Mom, wiping the baby's nose all day long. She was a little embarrassed to have this picture taken because her grooming still isn't finished. Remember we were going to let her grow out a little so we can have more to work with but we think we'll be able to save the face. She does like her pony tail though because she can see better with her hair up.
There is a new problem though. Mattie will be back at the vet's on Monday. Her ears are both sore and red inside. Not sure if she is having a topical reaction to the ear cleaner we used during her grooming or if she has something else going on in there. I have started treatment at home and hopefully that will give her some comfort. She cries softly when you touch her ears. She really didn't need this setback.
Thursday 12/09/99


As you can see by today's pictures, we had to shave Mattie's whole head. She couldn't tolerate the combing required to get out all the tiny mats around her mouth and chin. Especially since her ears hurt so we felt it was kinder to just clipper it all off and let her start fresh. Mattie still has a long way to go. Her ears are looking better with the treatments I have been giving her. The vet couldn't look inside them because she was in too much pain and they were still reluctant to use a sedative on her. She also is anemic as her gums are rather pale. The good news is the skin on her rump has healed up nicely and she is happy, playful and loving. I consulted a second vet today about her on-going treatment since the kennel cough is only slightly better and I wasn't satisfied with the current progress. Now she is on 2 antibiotics, prenatal vitamins, ear meds, puppy food and steam inhalation therapy. Hopefully we will see improvements now. The faster we can spay her the better off she will be.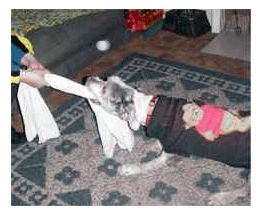 She is quick and bright and loves toys. Tug is her favorite game and she is really strong. She pulled me right off the couch! She's so fun now, I can't wait to see what she's like when she's well.
Wednesday 12/15/99
Good News! Mattie's kennel cough is so improved I have her scheduled for her spay early next week! All she wants to do is play and cuddle and kiss. She is funny and bouncy but not obnoxious. Now, hopefully, she will be able to recover from all her problems.
Her ears are clearing up, as far as I can see and she doesn't cry anymore when I put in the ointment. I have my fingers crossed that she will be in her permanent home by New Years if all goes well!
Monday 12/20/99
I don't know where to start, there has been so much good news for Mattie since last week! On Thursday afternoon, Mattie was so playful and happy I decided to bring her in to the vet on Friday for her spay if he thought she was well enough. Dr. Pete Keesling from San Martin Veterinary Hospital pronounced Mattie 100% clear from her kennel cough and her ear infection too! We decided to do surgery that day! Mattie was spayed and so her pymetra was now gone! Her lumps on her neck turned out to be benign cysts and her toenails were cut back and cauterized while she was under anesthesia, (they were so long we couldn't cut them without pain and bleeding). Mattie came out of anethesia without incident and Dr. Pete said she would recover fully from all of her problems. He said she was strong and a fighter and he had been charmed by her. She grinned for him, which I too had seen, and we both found it very cute.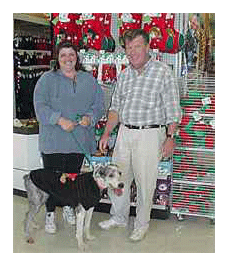 Mattie went home to her new family on Sunday Morning! The Brennen family of San Bruno had been following this story and called asking to adopt her! They have owned two OES before and know the breed very well. Their hearts went out to her and they knew she was for them. After talking with Mr. Brennen, I knew too, that was where Mattie belonged so we met on Sunday and Mattie just loved them. She gave me a kiss goodbye and walked happily away to start her new life. (That's me with Mr. Brennen and Mattie. Look at her smile!)
Mattie would like to thank those of you who prayed for her recovery and a special thanks goes to Kim Sutherland, her husband Hank and their 18 month old Old English Sheepdog, Abbey for the donation they sent to help with Mattie's care. And of course the biggest thanks goes to Mr. & Mrs Brennen for loving her, giving her a new home and for their donation for her care.
Can you help? Dogs like Mattie are left to die in shelters everyday. We rely on the donations of people like you to help us raise the funds needed to care for a few of these dogs and give them the chance that you gave Mattie!! You can make any donation by going to the paypal link at the top of this page or you can mail a check to:
South Bay Purebred Rescue
P.O. Box 36090
San Jose, CA 95158
South Bay Purebred Rescue is also grateful to the following people who helped Mattie in her rescue and recovery, Thank you to all for your help, we couldn't have done it without you.
Dr Pete Keesling & Staff of San Martin Veterinary Hospital
Dr Elinor Griscum & Staff of VCA, Orchard Plaza Animal Hospital
Sunny Arruda, VP, South Bay Purebred Rescue, Mattie's foster mom
Sara Rogers, Groomer, Laudromutt
Aimee Christy, Groomer, VCA Orchard Plaza Animal Hospital
Joan Oldfather, Rescuer who transported Mattie from the Modesto Shelter to her foster home in San Jose.
And most especially we thank Mattie, herself, for having the strength to keep fighting against the odds.